[CENTER]

[SIZE="4"]
On behalf of 6thGenAccord.com, Acurazine, The Toronto Accord Club and Enthusiast Revolution I would like to officially announce 2012's CanAm Cruise in Agawam Massachusetts
[/SIZE][/CENTER]
Right now Myself, Kevin (Goldnknight22), Ryan (eggs) and Carrie (CarrieLynn) are just about done with all of the planning.
[COLOR="Red"]Hotel Accomodations:[/COLOR]Red Roof Inn
1254 Riverdale Street
West Springfield, MA
This is more of a "budget" hotel with very basic amenities.
Residence Inn by Marriott
64 Border Way
West Springfield, MA
This hotel is literally right behind the Red Roof, and is much nicer. The rooms at Residence Inn's are "apartment style" meaning they have kitchens with appliances, nice beds, flat screens and sleep at least four people.
https://www.marriott.com/hotels/travel/bdlrw-residence-inn-west-springfield/
[COLOR="Red"]
Itinerary thus far:[/COLOR]

Friday, August 3rd 2012
8:00pm - Dinner at Louie B's on the lake in Southwick, MA. Same location as last year. Figured we had a pretty good time there and we were able to sit out side by the water, so the location was great.
Saturday, August 4th 2012 - Meet & Cruise Day

9:30am

Where:
[COLOR="Red"]TBD[/COLOR]- Will be either the Italian Sporting Club again or Robinson State Park.
What:
Car show, BBQ, Chinese Raffle to benefit
Komen For The Cure
.

Cost:
Mandatory $10 donation per car (not per person). This will cover entry into the meet/show, participation in the cruise and a raffle ticket. All proceeds after overhead (food cost, venue rental, promotional items, raffle prizes, etc) will be donated to
[COLOR="Magenta"]Susan G. Komen for the Cure [/COLOR]
(Breast Cancer Awareness).
3:30pm
We leave the Meet Location for a cruise through the hills and back roads of Western Massachusetts.

This years cruise route will be determined this weekend, and will be posted shortly there after.

5:30 - 8:00pm
For people staying overnight, this will be the time for you to get back to your hotel rooms, rest a bit, and get cleaned up for dinner, drinks and shenanigans.
8:00pm - ??:??
Dinner and drinks at Hooters of West Springfield
I picked this location because for one, it's awesome, but more so because it's located literally right next door to the Red Roof Inn and the Residence Inn. It's a two minute walk, or five to ten minute stumble from the front door of Hooters to your hotel room. So there will be no need to worry about drinking and driving because you won't have to!!
Carrie - Be nice to the Hooters Girls
Eggs - Don't forget your tanktop.
Area map of Hotels and Hooters:

A: Hooters of West Springfield
B: Red Roof Inn
C: Residence Inn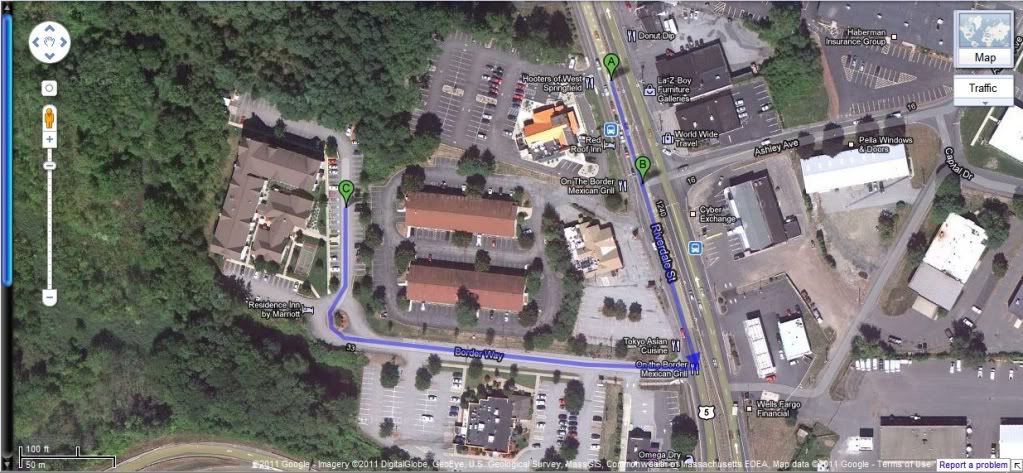 [COLOR="Red"]In the mean time, I need volunteers in the New England area to assist as Coordinators. [/COLOR]
Duties of coordinators will be to help setup the meet/show, cook, break everything down, and lead groups of cars for the cruise. IIRC, the entire one hour cruise route has MAYBE three traffic lights, and I think two stop signs so it will be pretty easy to keep everyone together. The cruise leaders are just a precaution. I am going to do my best to arrange another Police Escort from the meet location again, but it isn't a definite. But considering I was a big part of the Mayors Campaign and win this past fall, I don't think it will be an issue.
Because of this it will also be your responsibility to make sure everyone is on their best behavior
.
[COLOR="Red"]Burn outs, mAd tYtE drIfTz and other general douchebaggery WILL NOT BE TOLERATED.[/COLOR]
If you want to volunteer as a coordinator please PM me or email
jbmiller616
at
gmail
dot
comCoordinators/Volunteers:
1. Justin - JMillerUA6 - 6GA.com & Acurazine - CT/MA
2. Kevin - Goldnknight22 - 6GA.com & Acurazine - MA
3. Ryan - eggs - 6GA.com & Acurazine- LI NY
4. Carrie - CarrieLynn - 6GA.com & Acurazine - CT
5. Tom - vtecboi - 6GA.com - NH
6. Brian - sydkck67 - 6GA.com - NH
Again, if you are local and would like to volunteer, please PM me.
Thanks, and I hope everyone can make it!
Justin Miller
6GA.com Moderator
Co-Owner/Founder Enthusiast[COLOR="Red"]Rev[/COLOR]olution.net
CanAm 2012 Organizer